Join Sweepstake at Chipy.com to Win $750 + 7,500 Coins!
Join Sweepstake at Chipy.com to Win $750 + 7,500 Coins!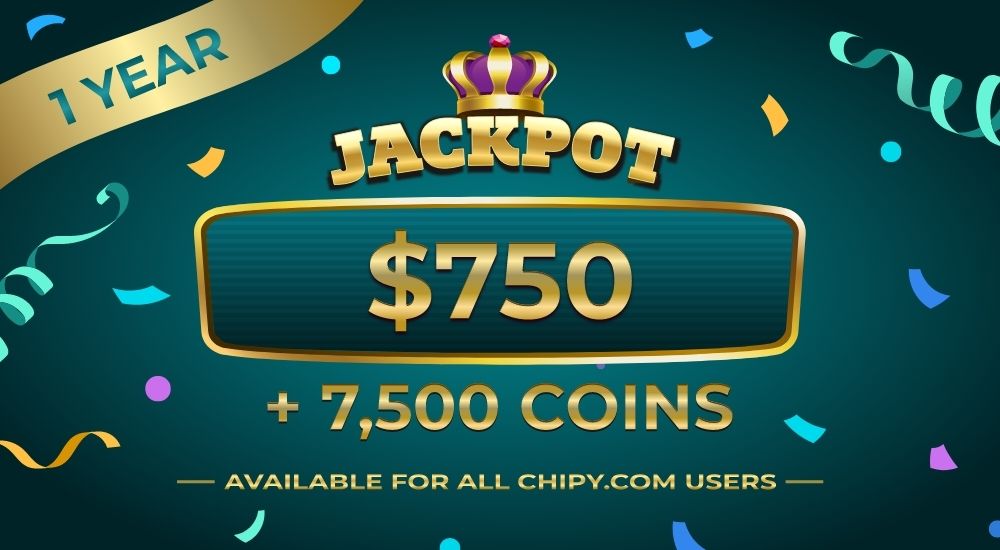 Our partner Chipy.com organizes an exciting event called Sweepstakes 1nniversary 2022 Jackpot . The prize fund of this gambling competition is $750 + 7,500 Chipy coins. And all these prizes will go to one lucky winner!
The sweepstake takes place from June 1 to June 30 and is available for all chipy.com Level 1+ registered users.
The event is completely free to participate in. You do not need to pay real money or spend coins that you have in your Chipy account. Just log in to chipy.com and get your ticket!
Other users will also receive their tickets – thus, a pool of participating tickets will be formed. Once the sweepstake ends, one winning ticket will be randomly drawn. All tickets have equal chances of being chosen at random. The winner of this monthly sweepstake will take the entire prize fund.
And what is great, you can receive one ticket each day during the sweepstake. At the end of the event, you will have as many as thirty tickets. Therefore, the chances of success are very high!
The main reasons to enroll in Sweepstakes 1nniversary 2022 Jackpot are:
It is an excellent opportunity to test your luck in the event with a big number of participants.
The event is completely free to participate in, so you do not have to risk your money.
The sweepstake has very simple conditions of participation.
In case of success, you will win $750 real cash and 7,500 coins. Coins are an exclusive currency that users can earn and spend on chipy.com. One of the ways to spend coins is to visit the shop page of the site and buy cool items, such as casino free spins, or turn coins into real money.
Are you eager to join this exciting event? Then do not waste time, because every day brings one ticket!
And if you have a winning ticket, you will be notified in two ways. First, you will get a notification on chipy.com. Besides, you will be sent an email with detailed instructions.
So test your luck and have fun!